John C. "Chris" Loeffler, II
Chief Executive Officer and Chairman of the Board
Chris Loeffler has served as the CEO and Chairman of Caliber's Board of Directors since its inception. As CEO, Chris directs and executes global strategy, oversees investments and fund management, and contributes to private and public capital formation. As a Co-Founder Chris took an early role forming the Company's financial and operational infrastructure and navigating the vertical integration of all real estate and investment services.
Prior to forming Caliber, Chris served as an Assurance Associate at PwC in Phoenix, Arizona, completing public company audits, developing control systems, and completing several acquisition or sale transactions. Some of Chris's clients included Honeywell International, Inc., CSK Auto Inc., Verizon Communications, Inc., Republic Services, Inc., Car Wash Partners, Inc., and the Arizona Diamondbacks.
Chris earned a Bachelor of Science degree in Business Administration with a concentration in Accounting from California Polytechnic State University, San Luis Obispo. Chris attended Universidad Complutense de Madrid (University of Madrid) in Madrid, Spain. Chris Co-Founder and former Board Director for Qwick, Inc., a venture-funded hospitality staffing marketplace, a Board Director for Zennihome, Inc., a housing-tech startup and a Board Director and Treasurer for the Mesa Police Foundation.
Jennifer Schrader
President & Chief Operating Officer and Director
Jennifer has served as the President and COO and as a director of Caliber since its inception. Since co-founding Caliber in 2009, Jennifer has overseen the acquisition, design, repositioning, and disposition of over $500 million in assets to date. In addition, she leads the company's daily operations, inclusive of Caliber's asset management activities, focusing on the execution of each investment's business plan over the asset's full lifecycle.
Prior to forming Caliber, Jennifer was the Managing Partner of First United Equites, LLC, a Michigan business focused on acquiring, renovating and selling homes for profit.
Jennifer serves as Chair of the Caliber Foundation, which was launched in 2021, and on the Colangelo College of Business Advisory Board for Grand Canyon University in Phoenix, Arizona. Jennifer attended Lawrence Technological University in Michigan where she studied architecture and interior architecture. She holds a Real Estate Broker's license from the Arizona School of Real Estate and Business.
Jade Leung
Chief Financial Officer
Jade Leung is Caliber's CFO and corporate secretary. As CFO, Jade oversees all aspects of accounting and controllership, financial planning and analysis, tax, financial reporting, and treasury functions at Caliber. Jade is also responsible for the strategic direction of Caliber's information technology and data security initiatives. Before being named CFO in April 2017, Jade was Caliber's Vice President of Finance and was responsible for managing and streamlining the Company's accounting and compliance functions across all divisions and functions. In August 2016, he was also named the Chief Compliance Officer for the Company's Arizona issuer-dealer, Caliber Securities, LLC, which established a new revenue stream for the Caliber group of companies.
Prior to joining Caliber, Jade spent 12 years with PwC, most recently as Senior Manager in audit and assurance services in Los Angeles, CA where he managed audit and accounting advisory services for some of PwC's largest Fortune 500 companies in the United States, Canada, and Japan. Notably, Jade participated in over $1 billion of public market transactions and financing arrangements for companies including First Solar, Inc., American Express Company, Mitsubishi UFJ Financial Group, and Rural/Metro Corporation. Jade earned an accounting degree from Ryerson University and Bachelor of Arts degree in Psychology from the University of British Columbia. Jade holds an active CPA license in the states of Arizona and Maine.
Roy Bade
Chief Development Officer
Roy Bade is the Chief Development Officer ("CDO") of Caliber. Roy is responsible for managing real estate service lines provided by Caliber's vertically integrated group of operating businesses. His four areas of responsibility include vertical and horizontal real estate development, construction, acquisitions, and project financing. Mr. Bade joined Caliber in 2014 as Fund Manager and was quickly promoted to Executive Vice President and Fund Manager. He was responsible for maximizing returns on existing properties and managing Caliber's development and construction activity.
For nearly 30 years prior to joining Caliber, Roy acted as the principal and managing partner of two businesses, Bade Commercial Services Inc and BCS Development Group, LLC, which included development, construction, and property management of commercial, retail and industrial properties throughout Phoenix, Arizona. During this time, Roy developed, constructed and owned over 750,000 square feet of property. Roy graduated from Washington State University with a Bachelor of Science in Business Information Systems, holds a Commercial General Contractor's license, and holds an Arizona Real Estate Broker's license.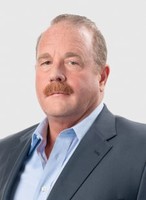 John Hartman
Chief Investment Officer
John Hartman is Caliber's CIO. As CIO, John is responsible for all of Caliber's private funds, private syndications, and public products such as REIT's and DST's. John joined Caliber in December of 2020 as a consultant and was then hired to fill the role of Executive Vice President and CIO. From January 2020 until joining Caliber he was a Managing Director and equity partner of Republic Capital Partners, a commercial real estate merchant bank, where he oversaw the investor marketing and capital formation activities, including deal sourcing and negotiation. Prior to that, he was Chief Executive Officer and a member of the board of directors of Gadsden Properties, a publicly traded real estate company.
Prior to joining Gadsden, John was CEO of Landwin Realty Trust, a REIT created out of the merger of several private equity real estate funds. John also served as a Managing Director of Astrum Investment Management; a $50 million private equity real estate fund focused on C-credit middle market industrial sale/leasebacks. Earlier in his career, John held the position of Chief Financial Officer for Global Facilities Development, a national commercial real estate development and site selection company, focused on historical rehabilitations for high-tech reuse, primarily data centers. He has also served as President and CEO of Silverado Financial (SLVO), a publicly traded real estate finance company. John has held leadership roles at private and public real estate firms including institutionally backed private equity real estate funds, where he managed capital formation, due diligence, underwriting, and acquisitions. John has acquired/developed over $2B in commercial real estate. John holds a bachelor's degree from San Jose State University and an MBA from California Coast University. John is a licensed real estate broker in Arizona.